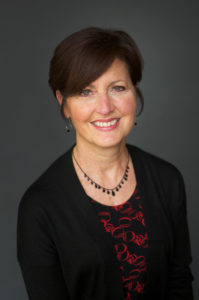 Chris has been married to Tim since 1976 and they have lived in Alma since 1979.
They have three sons, Phil, Steve and Mark.
Chris has a bachelor's degree in Physical Education Health and Recreation from Anderson University, Anderson, Indiana. She began teaching Aerobics in 1979 and has taught various classes since then. She was a leader in Bible Study Fellowship for 10 years and Directed CE at ACOG for six years.
Chris began Directing His Place in January of 1996.
She is grateful for the many opportunities God has given her through His Place to meet people of all ages and walks of life. As she strives to help others be healthy physically, emotionally and spiritually she has grown to depend on the teaching of God's Word and the leading of the Holy Spirit. She is so thankful for her church family that encourages and supports the outreach ministry. Chris believes our community is better and stronger because of the efforts of so many wonderful leaders and volunteers. She is truly privileged and honored to be a part of it all. What a challenging, rewarding and fun place to be!
Her interests include Reading, Running, and Scrapbooking.